October 1 - 17 - Fridays & Saturdays 8pm, Sundays 2:30 pm
Join us as we celebrate the music of Broadway from its beginning to its present day. This evening will consist of Broadway favorites to some Off-Broadway cleverness to bring you an evening of laugher, fun, memories and music.

See our cast list here.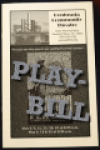 Safety and convenience for A Broadway Celebration, October, 2021
These measures were in place for our opening show this season. We're planning to use the same measures for A Broadway Celebration, as we continue to abide by government mandates and guidance.
MASK SUGGESTIONS

To provide an additional measure of safety, we encourage all audience members regardless of vaccination status, to wear facial coverings during the show.
We have set aside groups of seats for potential relocation should you feel the need.

We are limiting our ticket sales to 65% of the theater seating capacity.

In addition, we will be practicing enhanced cleaning and disinfecting procedures in the building. We have hand sanitizer available for everyone, and we will be cleaning common surfaces regularly.

We hope you find PCT a welcoming and safe venue with these measures in place.
Earlier in the pandemic, when we couldn't have a live audience, PCT moved to online productions. PCT produced a full season of streaming content during the 2020-21 season. We had a steep learning curve, and moved from informal reader's theatre productions to fully staged productions, to productions shot at home and edited together.
One thing we learned quickly is that technical quality matters. Thanks to a kind donation of professional-grade video cameras from Canon Virginia, Inc, we were able to shoot our on-stage content with high quality. This improved our streaming shows immensely.
As we return to live theatre, we hope to produce shorts for on-line distribution to enrich our theatre community.
During these trying times
PCT sold no tickets during the 2020-21 season, but many members of our community donated to the theatre through ticket turn-in on cancelled shows, and donations for our streaming shows.

We appreciate your donations made during this trying time. As we slowly return to normal, we're still highly dependent on donations from our community. Our membership drive is a great chance to donate to PCT, and other donations are also welcome.

If you're in a position to donate, we hope that you do. We've opened a COVID-19 appeal for any "extra" donation you'd like to make to help PCT get through this rough time. And a PCT Operations appeal which is the "normal" donation that we process each year.