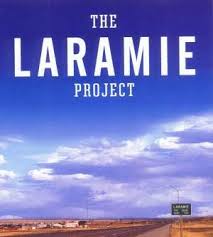 By Moises Kaufman and the Members of Tectonic Theater Project
Produced with Special Arrangement by Dramatist Play Services

Directed by Jennifer Thomas

A play based on the historical events of October 6, 1998 in Laramie Wyoming. One month after the incident the Tectonic Theater Project conducted over 200 interviews of the citizens of Laramie and out of these interviews, journal entries, and found texts, The Laramie Project was born. Hailed as one of the most captivating and encompassing pieces of contemporary theatre, the play shocks, challenges, and moves all who watch it as it reveals the lowest depths of hatred and greatest heights of compassion that lies with in all human beings in any seemingly average community.